Brand New Packages with Pricing for Every Budget!!
Online Booking will be available soon! Please Call 417-501-0826 to book!!
*Only available at our Springfield Location!*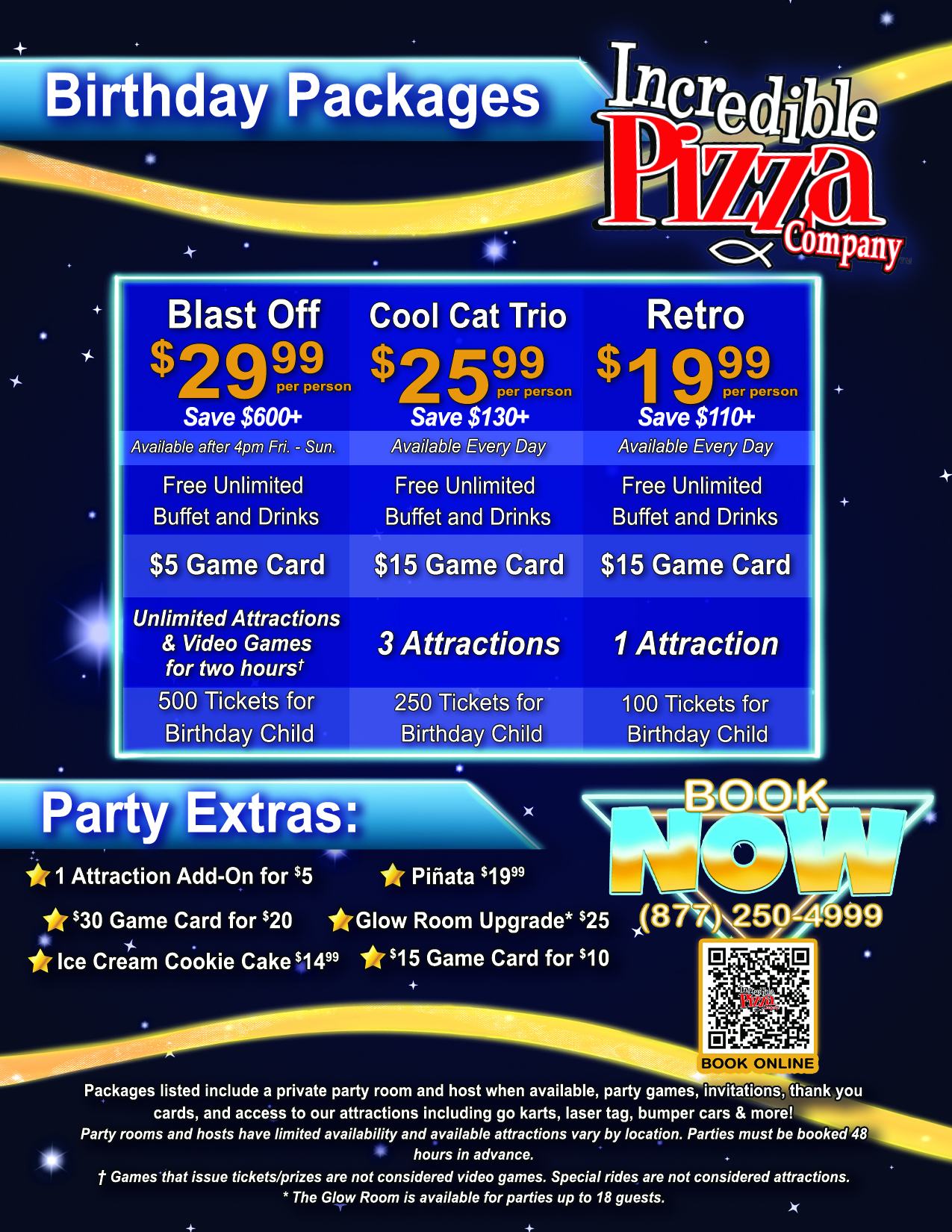 Soooo much fun!! We just moved here from another state and were told we need to take our kids here. We have a 9 and 7 yr old. It was awesome!!! Everything is clean and read continually cleaned the whole time we were there. They have sanitation stations throughout, the food was delicious, the rides were fun, everything was in working order!! (that's a big one!!), and the gifts to redeem tickets for were great!! Everyone was polite, friendly, professional, just amazing! Can't wait to go back in a month!!!
Krista G. from OKC
We had my daughter's party here today and it was well, incredible! The party hostess, management and everyone at the place was kind and professional. We will have many more parties here. Great food as well.
Christy F. from Memphis
The games were fun! The food was great! The atmosphere was very positive! We were there for 4 hours and didn't even realize it because we were having such a great time!
Summer G. from Memphis
What Makes Our Parties INCREDIBLE!
You only get one chance to go big for your upcoming celebration. IPC has perfected the party experience, from both the birthday child's perspective and the parents! Simply invite your guests to come join in the fun (free invitations included in package). We'll worry about the rest and make sure your guests will have the time of their lives faster than you can say incredible!
What makes us Incredible:
Dedicated Party Host
Fun Party Games
Free Invites & Thank You Cards
Unlimited Food, Drinks, and FUN!
Specialized Pizza
Ticket Blaster & Spinning Wheel
Private Party Room
Discounted $8.99 Buffets for additional guest not on the package
Plus any other add-ons…
You can even add Party Add-Ons:
String Piñata
More Time on Game Play
Ice Cream Cookie Cake
More Time on Activities
Glow Parties now available.
(only in Springfield & St. Louis)
All Glow Party Packages Include:
Private glow room with a Incredible Party Host
Glow Sticks & Face Masks
Free Invites & Thank You Cards
Glow Cups & Napkins
Plus many glow add-on options…